February 26-28, 2016
J
oin us for Men's Retreat to spend time with God and fellow men in the beauty of creation. Men's Retreat is planned each year by Mountain States Mennonite Conference. The festivities for the weekend include worship times, foosball, ping pong, chess, human curling, great fellowship and more!
​ARRIVAL / DEPARTURE: The retreat begins Friday after supper and concludes Sunday after worship and brunch.
​COST: The cost for the weekend covers meals, lodging, and the program. 
Emmental (Note: bedding and towels provided)
 Shared room: $120.00 / person

 Single room:  $135.00 / person
Main Camp (Note: please bring own bedding)
 Shared room: $85.00 / person

 Single room: $105.00 / person
Saturday only (meals & program): $35 / person
PLEIADES CONSTRUCTION PROJECT: Camp is in the midst of a building project and many hands are needed to keep the construction moving along. Continuing the tradition of Men's Retreat participants volunteering before or during the retreat, we hope many of you will lend your skills to the project. Follow the weekly update sent out by email to see which stage of the construction will be happening in February. If you are planning on working all or part of the day on Friday, please contact the camp ahead of time so meals and other details can be planned. THANKS!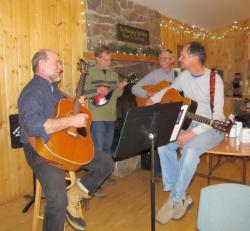 ​ACCOMMODATIONS: Housing is assigned by camp on a first come first served basis for your preferred housing location. Reservations are limited. The housing location options are Emmental or Main Camp. Emmental has twin beds and linens and towels are provided. For those wishing to stay at main camp, please bring linens and towels. Aspen is our primary housing location at main camp. To see detailed information about these facilities please go to our Facilities page.
PREPARE TO COME: ​RMMC is located in the beautiful Rocky Mountains. To prepare for your retreat with us, please check out our information about things to know before you arrive. Follow the link on the right "Prepare to Come".
THINGS TO BRING:
Friends!

Warm clothing for tubing, snowshoeing, broomball, & human curling

Toiletries

Sleeping bag and pillow (for those staying in Main Camp accommodations)

Snacks to share

Hand tools (if planning on helping with work projects)

Bible & notebook / journal

Musical instruments

Camera 
REGISTRATION: A $50 deposit is due at registration. This will confirm your space for the retreat. Deposit is non-refundable. To register, call camp at 719-687-9506 or mail in the paper registration form.
SAMPLE RETREAT SCHEDULE
​Meals on Friday are for work project volunteers.
   6:30     General registration & welcome for retreat participants
10:00      Free time, tournaments & work projects (optional)
   1:00     Free time, tournaments, work projects (optional)
   8:30     "Talent Show" - favorite poetry, songs, stories, joke, etc.
   9:30     Free time & finish tournaments
   8:00     Continental Breakfast
   8:30     Morning worship & camp offering
 10:00     Men's Retreat planning meeting
A committee from the Mountain States Mennonite Conference plans the annual Men's Retreat. Each year a person is selected to replace the outgoing member who has completed his three year term. Selection of the new member will be held Sunday at the retreat. If you are interested in helping with the planning committee for next year or would like additional information about this year's retreat, feel free to contact camp.