Mennonite Disaster Service and Rocky Mountain Mennonite Camp are collaborating in a disaster mitigation project to stop the spread of the spruce beetle to other trees on the camp property.

You are welcome to come for one day or more and bring your friends!  You can help fell, limb and remove logs. Also chip branches, debark trees that cannot be removed, split and stack firewood. The remaining trees are 75 to 105 feet tall and from 8" to 30" in diameter. Accommodations, meals and tools will be provided. 

All skill levels are welcome!
This summer some of the most productive volunteers were teenagers who had never done this kind of work before! Tools and experienced-based instructions will be provided.  We expect all volunteers to wear appropriate safety equipment including chain saw helmets, ear plugs, safety chaps, etc.  This equipment is provided. Bring your own saw if you wish to do so.  Most saws will need to be adjusted for the altitude except for the some of the newer ones which electronically adjust themselves. 
Please contact Corbin Graber to let him know when you are available. 719-687-9506.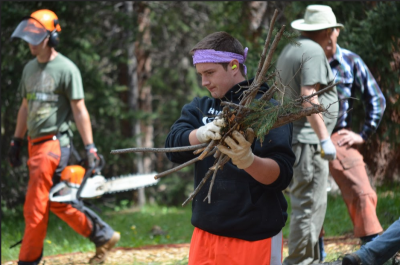 MDS staff and the RMMC camp staff have considerable experience in cutting the Engleman Spruce trees and have developed safe and accurate ways to drop them.  We have also learned the value of mutual consultation with each other on complex situations.  We have enough experience to be respectful of each tree and how it is likely to behave.  Each tree we fell is also our teacher as we go about our continued work. 
Here's the rest of the story….
In May 2015, the spruce beetle was discovered at Rocky Mountain Mennonite Camp (RMMC). This beetle kills the trees they infest by separating the bark from the inner wood of the tree. While they usually feed on downed trees, sometimes conditions are right for aggressive infestations in large, mature, standing trees. That appears to be happening in this part of the Pike National Forest. 
While this disturbing development is part of a natural phenomenon affecting large areas of Colorado's sub-alpine forest. RMMC's goal is to reduce the spread of beetles to other trees on the camp property near the main Lodge, the new Pleiades building, and near the Chapel. 
The most reliable method of stopping the spread is to disrupt the beetles annual life cycle. Our mitigation plan includes first cutting the infested trees. Then, removing the bark, chipping limbs and logs up to 10" in diameter, and/or removing the trees from the area before the beetles fly in the spring.
The tasks to complete this will include: felling the tree; removing limbs with an ax or a chain saw; chipping the meter; skidding logs out of the woods using low impact methods; de-barking all trees which are not removed; hauling some logs to the saw mill; splitting some logs into firewood and stacking it. 
Come to RMMC for a week of outdoor beauty, hard but rewarding work, good food, warm fireside chats and good fellowship.
Please contact Corbin Graber to let him know when you are available. 719-687-9506
 
Sent by Mennonite Disaster Service
Volunteer Development Team